I started this post prior to Easter and now I find myself finishing it up days after Easter….sigh, this is the life with kids!  Easter was fast approaching.  Owen is old enough now to understand, to some extent, about the Easter Bunny.  The week leading up to Easter we talked about the Easter Bunny to Owen and Brandon; we told them how the Easter Bunny hides treats for us to find on Easter Sunday and that on Good Friday we would be going to West Edmonton Mall to see the Easter Bunny in person.  Cousin Zoe, Uncle Derek and Aunty Colette were coming with us too!  Each day Owen and Brandon had a different thought on going to see the Easter Bunny — one day it was okay we can go, another day it was nah I'll stay home Mommy and the next day it was can Zoe come too??  This was quite the contrast to Zoe's thoughts on seeing the Easter Bunny; Aunty Colette said that Zoe was vibrating with excitement and talked about seeing the Easter Bunny in Edmonton all week and then once we were there and waiting, when the Easter Bunny emerged Zoe's eyes got really big and she was wowed.  Owen and Brandon watched Zoe's reaction and then looked themselves, small smiles emerged on their faces and they were equally excited in their own way.  When it came time to sit with the Easter Bunny for a picture Zoe was a little unsure but she told us she was being brave; Brandon marched right over, well until he was a few feet away and then got concerned; Owen was okay to give the Easter Bunny high fives and get tickled but there was no way he was sitting with him.  We finally convinced Owen and Brandon that if Dad sat with the Easter Bunny it would be okay.  We have a wonderful picture of Dad, Owen and Brandon with the Easter Bunny.  No tears and smiles so it was a success.
Good Friday was dinner at Grandma and Grandpa H's with Uncle Derek, Aunty Colette and Zoe; unfortunately Aunty Jodi was unable to make it.  The kids really enjoyed playing together and it was so wonderful to hear them calling out to each other.  Owen, Brandon and Zoe got to decorate Easter eggs, ice cupcakes and add sprinkles too!   Zoe has really opened up and was very comfortable with us, after dinner the kids played in the basement and Zoe showed me her suitcase, pillow and room she was sleeping in.  Zoe brought some library books — yes Zoe gets library books — we have not gone to the library to take books out with the boys; we are afraid of the condition they will be returned in — boys — and at this point they don't show much interest in books.  Zoe grabbed her books and read to Owen — it was too cute!!  The kids played hide and seek under the bed covers and giggled and squealed all evening ending the night with bathtime fun for the three of them.  Soon there will be four of them — Uncle Derek and Aunty Colette are expecting another baby in the fall.  Zoe is very excited to be a big sister and filled me in with all the details — there is a baby in Mommy's tummy, she wants a little sister and she is practicing to change diapers and feed and rock baby with her own baby doll.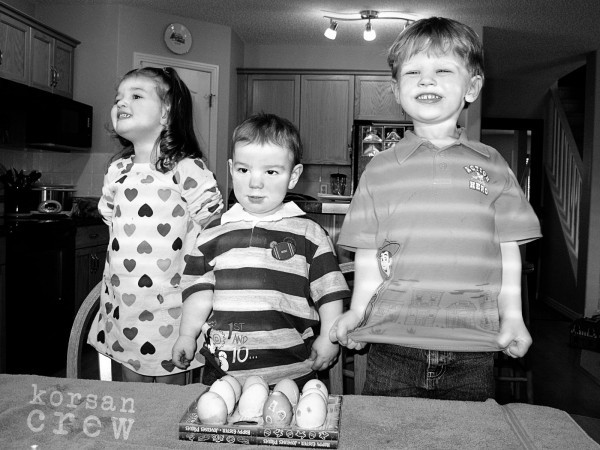 Saturday morning Aunty Claudette came over to decorate Easter eggs with the boys.  Owen really enjoyed dipping the eggs – gently, Brandon on the other hand loved to drop them in and make a splash and then stir the eggs very quickly.  It was quite the clean up but very much worth it.  Grandma K came over later to help get the turkey ready — we were having Easter dinner at our house this year.  Dinner went well, everything came out wonderfully and everyone enjoyed all the fixings that come with turkey dinner.  There were some Easter gifts for the boys — much needed spring clothes and then of course some fun treats for Owen and Brandon.  The boys did exceptionally well and stayed up quite late with everyone; it was really nice to have the time to sit and visit with everyone and not have to rush home to get the boys in bed.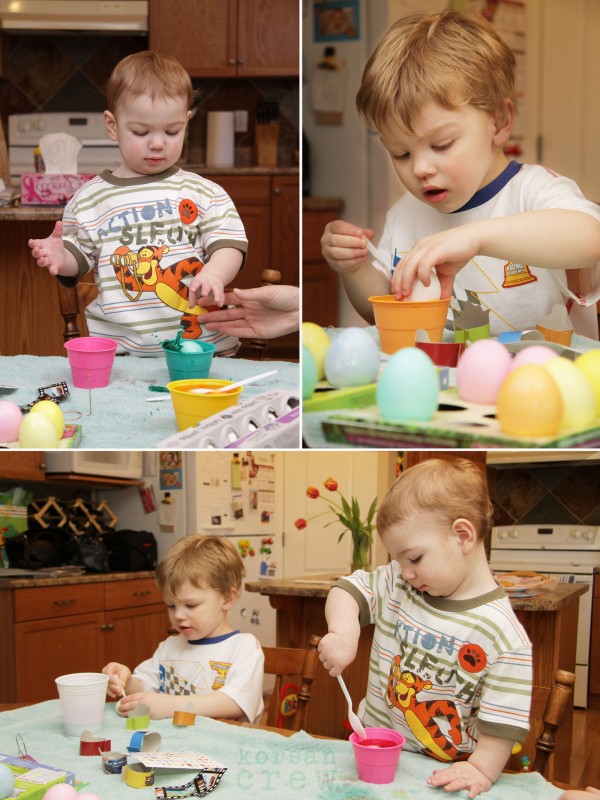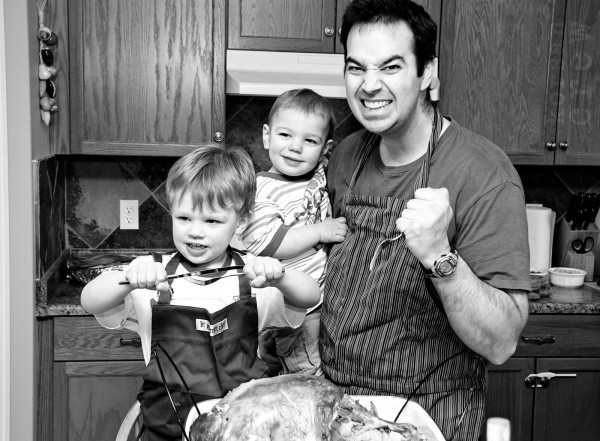 Sunday morning the Easter Bunny came to our house; the boys woke to find Easter baskets filled with treats.  Grandma and Grandpa H, Uncle Derek, Aunty Colette and Zoe came for breakfast and again the kids enjoyed the time to play together.  Afterwards we went as a family for groceries — the boys and I mean all three of them — occupied their time while I collected the necessary groceries.  After nap time we went to Grandma K's house — we heard that they Easter Bunny stopped at Grandma's house too — and the boys enjoyed an Easteregg hunt throughout the house.  In the Easter egg hunt there was some outdoor chalk in their baskets and so of course that means coloring!  GG, Aunty Claudette, Dad, Owen and Brandon headed out to Grandma's sidewalk to fill it with colors!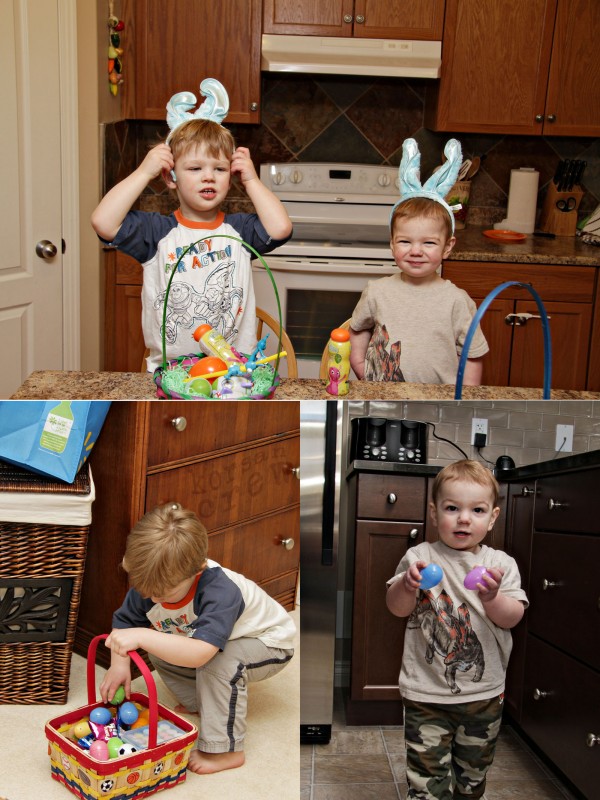 Easter Monday the day home was closed so I was home with Owen and Brandon.  We had a really great day — we went through the car wash and held hands (it was a little scary) and then had a play date with Tonya and Brooke.  We went to Brooke's house this time; it took Owen a few minutes to warm up but once he saw the kitchen he was set, Brandon on the other hand took longer to warm up and spent most of his time on my lap playing with any toys that were within reach.  At one point Brandon got comfortable and all three of them were following each other throughout the kitchen, toy room and living room — Owen with the shopping cart, Brandon with the popper and Brooke with the stroller….all you heard was follow me, Brandon, this way Brooke!  We left just before lunchtime and got home in time for naps, after the naps we took Kosmo for a walk — Owen and Brandon in the wagon; it was such a beautiful day all they needed were their hoodies — Tigger and Pooh and Toy Story.  All in all it was a wonderful long weekend – the weather was great and we were able to visit with so much family!